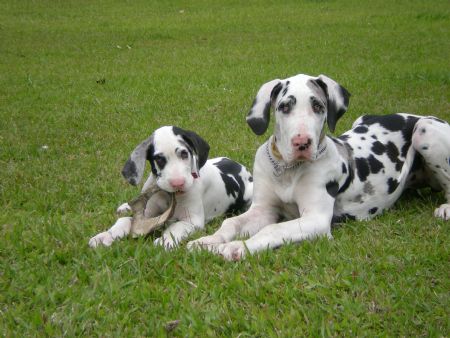 Welcome To AQUADANE KENNELS
Home of the Stunning
Harlequin, Mantle & Blue
Gentle Giants
We have been Registered Breeders with Dogs Queensland since early 2000.
Although we commenced this exciting venture with Australian bred Danes, we soon realised that we needed to diversify our genetic pool, improve temperament, health, size and the sunstance of our dogs.
We started looking at the European Danes and after years of research, we began importing the frozen semen of carefully selected Stud Dogs from countries such as Denmark, England, Ireland, Hungary and Croatia.
Because of our close contact with overseas kennels, we have managed to build close personal and business relationships with some of Europe's most sucessful Breeders.
As a result of our overseas contacts, we have been successful in bringing a number of stunning male and female Danes into Australia.
Our current Danes are beautiful solid giants of fantastic temperament and health, originating from some of the best European lines.
Our pups have been "adopted" by people living in every Australian State and Territory and all over the world, in countries such as Hawaii (USA), Japan, Singapore, New Zealand, Papua New Guinea and Tahiti.
Contact Details
Colin & Monica Roebuck
Bungundarra, Yeppoon, QLD, Australia
Phone : 0408 070 251 - 0412 312 653
Email :
[email protected]
187519 Visitors