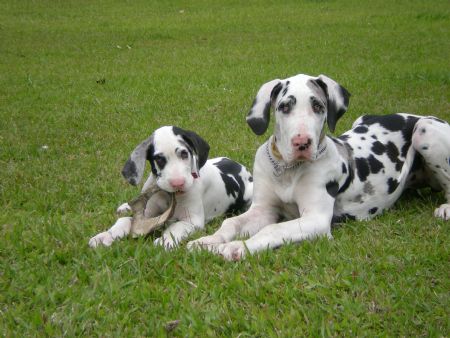 Welcome to Aquadane Kennels
Home of the stunning gentle giants
Showing and breeding Black & Blue Harlequins, Blue & Mantle Great Danes
And how did it all start?
Although I dreamt of living surrounded by Great Danes since I was a very young girl, it wans't until the early 2000 when Colin and I drove to Hildydane Kennels in Sydney to pick up our first Dane, that I was able to fulfil this dream.
Xophie was a beautiful 8 week old Mantle girl, who threw herself to us and covered our faces with wet kisses in a way that only very young puppies can do.
Soon after initiating the long drive back home, Xophie claimed the car's back seat and remained there for the two and a half days that the trip lasted, honouring her breeder's words when she told us: " my dogs are all very good co-drivers and co-pilots".
Once arriving home, Xophie took over our best couch, then our bed and from the first moment, both of our hearts fully and for ever!
Xophie was renamed Maddie, although she is often called "Couch Potato".
Contact Details
Colin & Monica Roebuck
Bungundarra, Yeppoon, QLD, Australia
Phone : 0408 070 251 - 0412 312 653
Email :
[email protected]
101468 Visitors